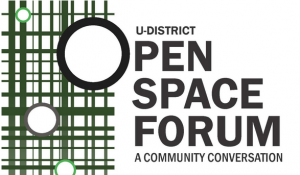 When: 7:00 – 9:00 PM (Refreshments at 6:30), Tuesday, October 7th
Where: Alder Hall Commons, 1310 NE 40th St.
The U-District Partnership together with the City is organizing a discussion about creating a public open space in the U-District. This will be an essential part of how the District will look for decades to come, and is very important. Multiple ideas have been floated, in particular for areas close to the future light rail station. City planning guidelines show that the U-District is short of open space now, a situation that will get worse with further growth anticipated.
The discussion will focus on many different questions. What should the space look like? How will it be used (daily events?, markets?, or open drug dealing?). What do we want? How should it be funded? Who manages the space?
There will be three open fora addressing various aspects of this endeavor. The first one is on Tuesday, October 7, 2014. The others will be on October 30 and December 3.
If you are interested, please try to attend all three events as they are interrelated. These are not presentations where solutions are going to be presented. There will be presentations to provide background information, but the main point is the discussion about what we want, so bring your ideas, thoughts and concerns. We have an excellent team of consultants, who will guide and document the discussions, Milenko Matanivic (Pomegranate Center) and John Owen (Makers Architecture and Urban Design).
I hope to see you there!