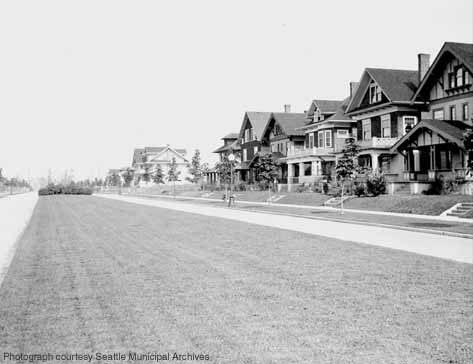 University Park is a turn-of-the-twentieth-century single-family addition to the University District, ranging from 16th Avenue NE in the west to 21st Avenue NE in the east, and from NE 50th Street in the south to Ravenna Park in the north. You can see your house in the map below:
University Park has many well preserved American Arts and Crafts houses which make our neighborhood interesting and inviting. Our two main Boulevards, 17th Ave NE and Ravenna Boulevard, were created by the Olmsted Brothers who planned a major part of Seattle's parks and boulevard system in the early 20th century. In the north we have Ravenna Park, a remarkable oasis of quiet in the middle of the City (OK, there are exceptions, such as when medieval battles rage in the ravine). Ravenna Park transitions into Cowan Park and its playground to the west.
University Park is part of the University District with many shops, restaurants and other amenities along University Way and the surrounding streets. It is of course close to the University of Washington, which offers a variety of programs and performances for the general public. To the east we are close to the University Village shopping center, accessible through the 52nd Street Hillclimb, which also provides good exercise on the way down and in particular on the way back up. The University District has excellent public transport connections to downtown Seattle as well as many other parts of the City.
A convenient collection of useful information for our neighbor hood can be found in our Official 2019 upcc brochure.
Welcome to our University Park Neighborhood!