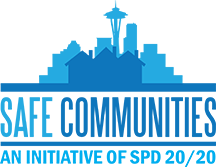 Our January meeting will be one of the Outreach Conversations organized by the Mayor's Office and the Seattle Police Department. There will be a short introduction, and then you will have the possibility to voice your opinions and concerns relating to crime and public safety in our neighborhood and the City.
Presenters: Our CPT Officer Brian Thomas, SPD
Linda Spain, Seattle Neighborhood Group
When: Tuesday, January 15, 2013 at 7 pm
Where: University Lutheran Church
at the corner of 50th Street and 16th Ave NE (Enter through the door from the parking lot north of the Church and go all the way down the hallway; the meeting will be held in the 'lounge', which is located just outside the chapel and the nave.)
Come early and meet your neighbors!
Light snacks and refreshments will be provided.
The University Park Community Club is an association of resident homeowners living in University Park. Our meetings are open to anyone interested in our neighborhood issues.