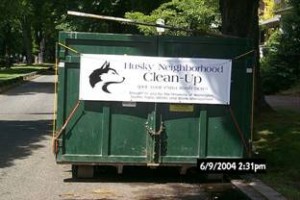 Only for students living in the north of campus neighborhood:
Bring unwanted items for free disposal or reuse and give to a worthy cause at the same time!
Location: 17th Ave NE and NE 47th St
Times:          1 pm to 5 pm, or until truck is full
Dates: Finals Week – June 8, 9, 10
Post Graduation – June 13
What can I get rid of during the cleanup?
Trash and bulky items
Vehicles will be on hand to collect all waste and large items
Reusable Goods
Items in good condition will be collected and donated to charity
Remember: It is illegal do dump garbage on the sidewalk or plater strip, even if you put a "Free" sign on your old couch or TV.